It's been a busy month for Tom's Vans Bristol – your Local "Man with a Van", Delivery and Removals Service! Our Bristol Vans and drivers have helped deliver solutions to a variety of events including weddings, wedding shows, design shows in London and artwork deliveries for Bristol-based artists and Universities and Art Colleges! If you need a reliable and "stand out" service trust Tom's Vans to deliver! Since establishing the business in 2010 we have gained an enviable reputation for our reliable friendly team, straightforward and friendly service and huge passion for what we do. So whether it's a domestic removal in Bristol, a "Bristol Man with a Van Service", or a delivery request for your business please do not hesitate in getting touch with Tom's Vans Bristol – Your Local Professional Man with a Van!
Tom's Vans Delivery Service in Bristol helped a local art College with all their transport needs for a total of three shows in London this month. The college needed a van delivery service with a bespoke and friendly approach to their needs. If you are going to entrust a total of 50 students' work to one company who would you trust? May I suggest Tom's Vans? The deliveries to London and the collections after the shows went incredible smoothly. The college are delighted and I have received emails and texts of thanks from Lecturers and Students alike!
If you are planning a wedding and need a van-load of delicate flowers and plants delivered anywhere in the UK – who would you choose? Well we have just returned from doing just this and it was a pleasure to help the Father of the Groom organise this –see pictures below! Tom's Vans Bristol is so much more than the average "Bristol man with a van" service. Either myself or one of my amazingly friendly, dedicated and polite team will be on hand to assist with your van delivery needs in Bristol. As well as domestic house and flat removals we also offer a fantastic professional packing service to businesses and domestic customers alike in the Bristol area.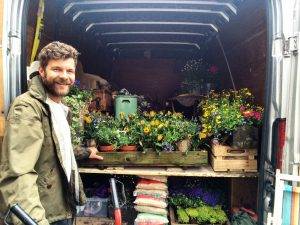 2 to 3 Bedrooms House and Flat Removals
Bespoke Business Deliveries
Professional Bristol "Man with a Van" Service established 2010
Business and Domestic Packing Service
Bristol Office Moves
Bristol Van Removals Service
Please email me your enquiry to tomsvans@gmail.com and I'll reply quickly
I really look forward to hearing from you, Tom