Need help with removals packing? We can help!
If you're moving house in Bristol and can't face the packing, why not contact Tom's Vans? A removal company who offer a full Bristol moving and packing service! You have probably already done the sorting and decluttering – but not sure about how to pack it or have no time to deal with it. Do you remember when you moved house last time? I bet the packing took a lot longer than you anticipated? Also customers struggle to find decent removal boxes in Bristol, at least ones that don't cost the earth! We offer our packing service Bristol to domestic and business customers. In fact, we love packing your home and office in Bristol! So use our professional packing service Bristol to save you time and reduce your stress.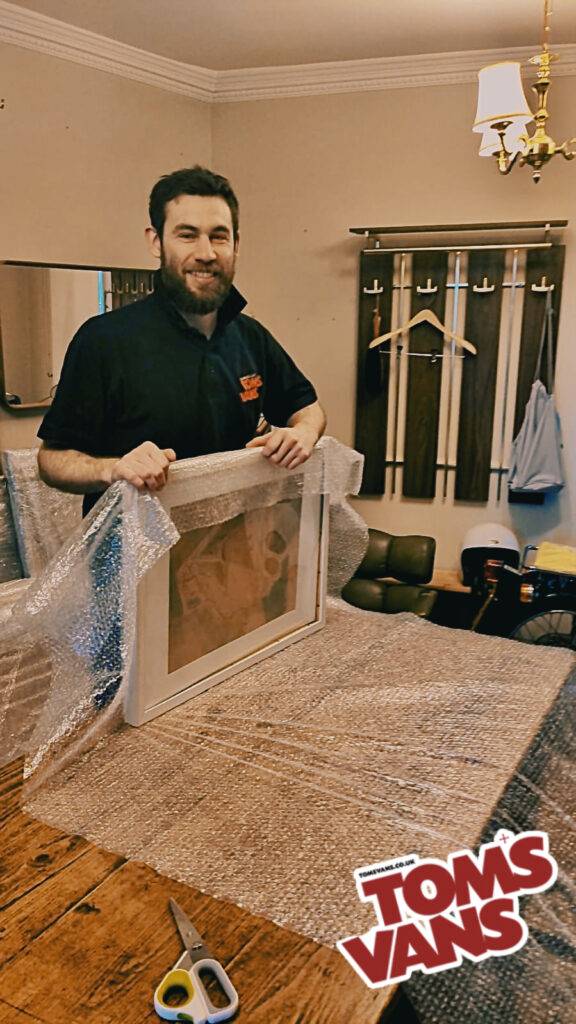 Tom's Vans Removals Bristol are your local, efficient and reliable movers and packers in the Bristol area. My super-friendly Team has been helping customers since 2010 and we strive to be the best! When you choose our Bristol packing service you can rest assured that we will arrive with all the requisite packing materials such as tape, boxes, wrapping paper for your fragile glasses and ceramics and markers to ensure you know what is in each box! Removals packing is a bit of a luxury – and you will be so glad you asked Tom's Vans Bristol to help you with it! As we do this regularly, we offer a quick and professional packing service. 
If you are interested in using Tom's Vans' packing service, please contact us and give us the details of your requirements. Take some photos, WhatsApp them to us and leave the rest to us to plan – this help us to estimate the length of the packing job, how much time to allocate and types and quantity of boxes to bring. The packing materials we use are locally sourced in Bristol.  They are from an independent local company with a professional grade.
Save time, save stress – use Tom's Vans Packing Service Bristol!
We love helping people and that is why we love our job. Seeing a happy, satisfied Bristol removals customer give us a great buzz and we always drive off with a warm glow knowing we have done our best to make that person's day brighter! After all, our reviews speak for themselves. Tom's Vans Bristol Google Reviews
Environmental Concerns of packing materials
As an ethical Bristol Removals Company we have always tried to reduce our environmental impact. We use economical removals vans with low carbon emissions. We also support Tree Sisters – a fabulous woman-led charity who plant trees over the world. At the bottom of every invoice we send out you'll see how you can support the amazing work they do. 
https://treesisters.org/fundraisers/toms-vans-fundraiser
Packing materials such as removals boxes and paper can have a large environmental footprint. Where possible we use re-used boxes for our bristol packing services! These are one of the most environmentally friendly forms of packing materials. We are also looking into biodegradeable bubble wrap and already use 100% recylced wrapping paper.
New for 2022 – Removal Box Packages!
If you prefer to do the packing yourself, why not try our Removal Boxes Packages! Tom's Vans Removals can provide all the packing materials you need – please email us using the contact form below to find out more about these high quality packages that we can deliver to your door!
Reduce your environmental impact by choosing our removals materials whether you're packing for yourself or using our Bristol packing service! Tom's Vans remains one of Bristol's best Removals Companies and we really look forward to helping you this year. If you have any suggestions to how we can be more environmentally friendly why not drop us an email with your suggestions! Thank you 🙏🏽🌲
Tom's Vans Bristol – Your Local Man with a Van Removals Service. 
Professional + Independent + Reliable + Affordable
Drop us an email enquiry using the contact form below and we'll reply swiftly with a friendly no-obligation quote.  You can also call or Whatsapp us on 07734 954 263.