We offer bespoke furniture making services in Brighton, Hove and the surrounding areas. Specialising in fitted storage such as wardrobes and cupboards, alcove shelving etc!

Offering high-quality, bespoke carpentry solutions for your home and business, shop or office in Brighton, Hove and Sussex. My friendly, dedicated Carpenter and designer will visit you and assess your requirements then provide you with a detailed, no-obligation quote and project brief. Oli is a stickler for detail and you can see this in the results. Tom's Bespoke Carpentry & Furniture Making is a small, friendly local business based in Brighton, est 2010.

As a business, we started helping customers in Brighton & Hove in 2010. We love what we do, and you can see from the results of our work there is plenty of dedication and attention to detail.

I must point out that we are a small company and you might have to wait a few weeks as we are always busy. However, it'll be worth a small wait. We do not mass-produce, every element is hand made and well thought out. This takes time - but despite the level of service and quality you will receive, our prices are extremely competitive.

We have our own Brighton-based workshop where we carry out all our Brighton bespoke carpentry projects. You'll receive a simple all-in fixed price quote. We can often get your project to completion within 4 weeks of initial meeting! We are certain that we are the best value professional Brighton bespoke carpentry service around. We only take on one large project at a time - now that is what we mean by bespoke! Not mass-produced, just a simple solution that fits in with what you asked for. Exactly.

---
Tom's Bespoke Carpentry Brighton is proud to show off our latest handmade furniture creation! Our Brighton furniture customer needed a carpenter to design, plan, create a unique storage solution – fitted wardrobes and cupboards were the answer! If you're looking for a high level of craftsmanship and someone who will take the time to listen to your requirements then please give us a call! We are a small, independent, local Brighton furniture maker who will take the time to listen to your needs. We never rush a project or a brief, Oli will make it clear the lead time you should be expecting at the consultation stage. We are affordable, friendly and you'll be amazed by the results. #brightonfurniture #brighton #tomsbespokecarpenty #handmadefurniture #carpenterbrighton #carpentry #fittedwardrobes #furnituremaker #stylish #homeimprovement 
Looking for Handmade Fitted Furniture in Brighton?
I am very excited to announce that Tom's Vans – Your Local Man with a Van is now offering Tom's Bespoke Carpentry Service! My business is built on having a fantastic reputation and my staff are so multi-talented that I thought it was about time we offered Brighton furniture making and carpentry service. My core business was born out of my passion for furniture restoration and antiques, and I know that we will put the same care and attention that we put into your house move as we do building some fantastic bespoke furniture for your home or office, such as made to measure wardrobes, bookshelves and storage. I regularly update this site with recent projects such as Brighton bespoke handmade wardrobes and storage, shopfitting for local shops in Brighton, carpentry for events in London and Brighton – take a look at the pics below for more of an idea about our bespoke handmade carpentry services in Brighton!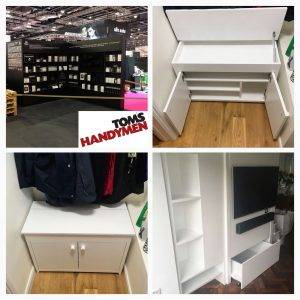 So if you need a joiner or carpenter in the Brighton area for those carpentry jobs that you either don't have time, inclination or the ability to do, then let us do it for you! Tom's Bespoke Carpentry in Brighton & Hove offer the following services, just drop me a line to discuss your needs and to work out a price!
Brighton Bespoke Carpentry and Handmade Furniture
Built-in Storage made-to-measure in Brighton
Brighton Shopfitting services
Handmade made-to-measure furniture for events and shows
Bespoke Furniture design Consultation for shops and homes
Media units and TV cabinets handmade to your spec
My team is passionate, communicative and fun to be around. So for an honest discussion about what you need please email me and I'd be very happy to discuss what you need! We are all passionate about everything we do. Contact me here – call for a friendly chat about what you need!